At the beginning of 2010, Alex sistemi SpA tested and certified two ISO-STD 20 ft. air-transportable shelter systems, which can be transported by C-130 aircraft. The shelters are designed with a self-loading system and are complete with necessary equipment. One of the shelter systems is of fixed dimensions, while the second is expandable. These shelter systems were designed as GCS for the Predator UAV for the Ministry of Defence of Italy.
The shelter systems consist of hot-pressed self-supporting sandwich panels and have been rated very highly by engineers and technicians for their durability and the thoughtful layout of the interior equipment, as well as for the attention to interior design, which is seen as a sign of excellent quality.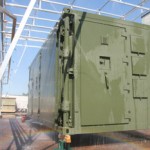 The inside of the 20 ft. shelter has been designed to contain the operation room equipment for the Predator control system and related control equipment (consoles, interface unit, transmitter, auxiliary GPS unit and data processing unit).
The Ministry of Defence of Italy specified the parameters for testing and certification of mechanical and environmental aspects of the shelter systems (in accordance with MIL-STD 810F standards) for both the structure and the functional aspects of the shelter systems, related to the multiple electrical systems installed (according to EMI / EMC to MIL STD-461e).
The Italian Air Force Predator UAV aircraft is based at the Amendola airbase. The Amendola airbase is home to the 28 Squadron of the 32 Stormo Wing, which manages the entire Italian UAS force and remotely controls drones, located in Herat in Afghanistan, performing tasks of reconnaissance, surveillance and intelligence. Italy used its first Predators in Iraq in 2005-2006. The Predators were located at the Tallil airbase as part of the "Ancient Babylon" mission.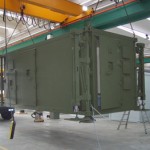 The Predator B (also known as Reaper) has a maximum operating ceiling twice that of the A version, plus autonomy and higher payloads, being able to carry 363 kg of internal payload (including EO/IR – Electro-Optical/Infrared sensors, satellite data link system, multi-spectral targeting sensor to designate targets for laser guided munitions, Lynx SAR radar (Synthetic Aperture Radar), electronic warfare and UHF/VHF communication systems ), and 1361 kg of external loads on 6 outboard stations (laser-guided weapons such as Hellfire missiles, or Paveway bombs).
At present, the Ministry of Defence of Italy does not intend to use Predator B for carrying weapons; they are more interested in the ISTAR capabilities (Intelligence, Surveillance, Target Acquisition, and Reconnaissance) of the UAV.
Successful implementation of the programme provided Alex sistemi SpA with further evidence of the constant increase in its operational capacity. In addition, the programme provided another opportunity to confirm the high level of expertise and know-how of the company that have enabled it to meet the strict requirements of the defence sector.