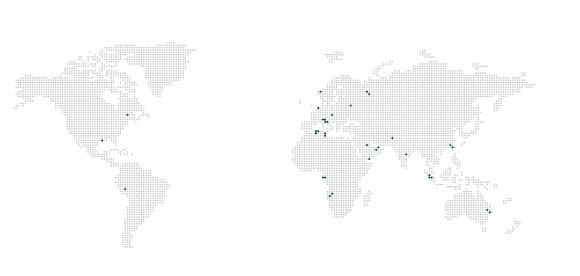 Capabilities for the growth of the Group
With the awareness that People are Creative Force and the key to the successes of the group, Alex sistemi SpA. has invested in attracting, identifying, enhancing and enriching the skills and know-how of its workforce.
OIL & GAS
Alex sistemi SpA. engineers have developed complex shelter systems for installation in the most extreme environmental conditions. Our shelter systems guarantee uncompromising safety and reliability in conformity with international standards.
Due to their high quality and operating characteristics, these systems are being used by major multinational oil and gas companies in the most hostile environments, including deserts, ocean platforms and arctic zones.
POWER AND TELECOMMUNICATION
After 40 years of working in the field, Alex sistemi SpA. has gained the experience necessary to provide only the best in satisfying our customers' needs and demands.With our vast experience in the integration of electrical, electronic and telecommunication systems, we can provide our customers with complete turnkey solutions and shelter systems complete with all required equipment integrated.
DISASTER RECOVERY
Through collaboration with major national and international organizations, Alex sistemi SpA. has developed specific skills and gained vast experience in the field of designing mobile medical units for major emergency situations. Our shelter complexes can also be used as mobile medical clinics for routine care in remote and inaccessible areas. Offering innovative solutions, Alex sistemi SpA. complies with all the increasingly stringent requirements, both in quality and efficiency of operations.
DEFENCE AND AIR TRAFFIC CONTROL
Know-how and experience in the integration of various systems enable Alex sistemi SpA. to manufacture products fully equipped with all service systems, including air conditioning systems, NBC filtration systems, lifting and leveling systems, fire fighting systems and electrical systems. Our shelters are also fully equipped with technological systems, such as consoles, racks and operational systems. Due to a high level of development of internal capabilities, Alex sistemi SpA. has entered the international market as a respected designer and supplier of specialist military units, such as control stations for UAVs, mobile command stations (expandable and non-expandable),and radio and satellite stations.
SPACE
In recent years, Alex sistemi SpA. has strongly invested in raising the quality of products and has consequently achieved the high standards that make the company capable of conducting research and design, manufacturing and testing equipment and modules for the handling and transportation of space satellite modules, such as MGSE (Mechanical Ground Support Equipment), EGSE (Electrical Ground Support Equipment) and STC (Satellite Transport Container) modules.